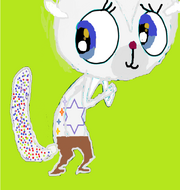 Personality
Edit
Rainbow Flake is a ferret. She is very shy and has a crush on Sunil. She likes helping each other. She also likes the dumbwaiter.
Physical Appearance
Edit
Rainbow Flake is a snowy ferret and sleeps most of the time. Her body is white and has rainbow sparkles on her. Her  feet are brown and so are her legs. Her eyes are Big her eye color is  Blue and gray.
She does'nt know her family because she was taken away from them.She got lost and does'nt know where they are.