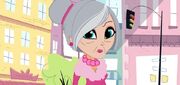 Agatha is an old woman who loves pink colour. She is not friendly, she is Marsh Mallow's madame. She hates children, and she thinks that herself is the best.
-GRRRRRR! You don't sell pink dresses?!
-Marsh Mallow, you just are running! You must walk like me and drink tea!
-Marsh Mallow has to stay here...With some dirty animals.
-My poodle is PINK! And the pink is the best colour.
-My poodle is THE BEST, like me, being fancy and with many style.
-DIRTY CHILDREN!
Appearance
Edit
She physically, looks like Mrs.Twombly, But her eyes are cyan (Mrs.T has aqua eyes)
She wears the hair up with a pink band, pink pearls, pink neckwear, and finally, a pink dress.